Ladyfish Clothing for Women Who Fish
Whatever the season, the catch or the company, the the fish are always biting in the Lowcountry.
"It's nice to be out there," she said with a smile. "I love the peace and quiet. Nobody telling you what to do or how do it."
When Hilton Head Islander Kelly Stroud Spinella couldn't find the right clothing for female anglers, she took matters into her own hands and launched Ladyfish in April 2014.
Perfect for fishing, boating and other outdoor activities, Ladyfish offers a line of high-performance clothing designed for the female body. Popular items include t-shirts, tank tops, hats and long-sleeved Ultraviolet Protection Factor shirts.
As a bonus, the long-sleeved shirts use with an anti-microbial, moisture-wicking fabric. It keeps anglers cool and protected from the sun, even in the summer heat.
Learn more at ladyfish.com.
By Amanda Surowitz
Read the online article here: https://www.bluffton.com/spring-fishing/
---
The ladyfish Team Caught a 86lb Cobia
June 1, 2016 - off the shores of Beaufort South Carolina
As of todays date the South Carolina State Record is 90lbs.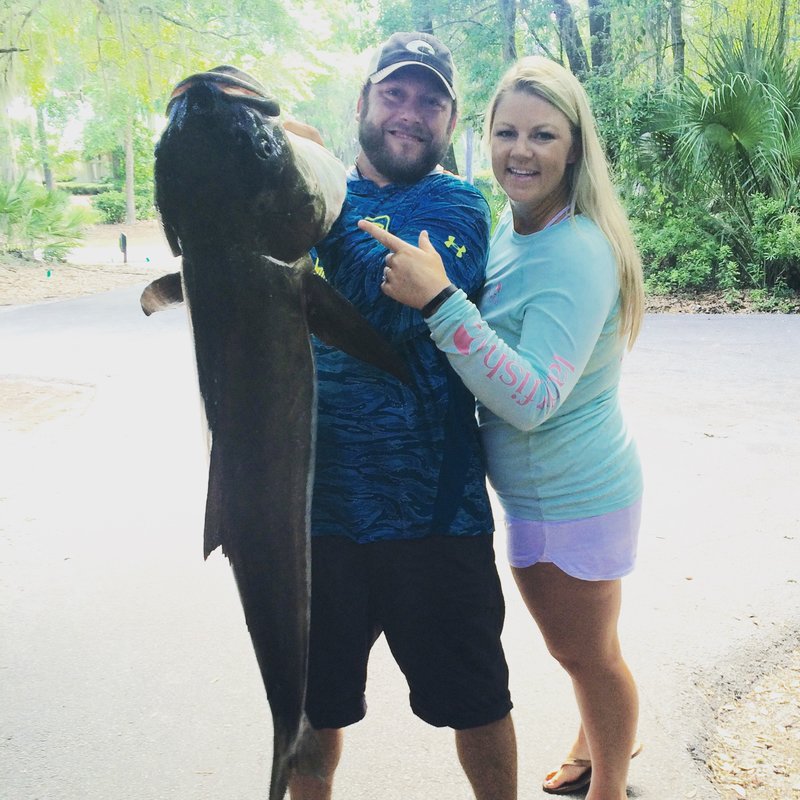 New South Carolina Cobia Regulations
Update to Cobia Regulations 
Please visit http://www.eregulations.com/southcarolina/huntingandfishing/finfish-size-catch-limits/ for current fishing regulations locally in South carolina.

Closed Season
May 1 - May 31. Catch and release only in SC waters south of 032 31.0' N latitude (Jeremy Inlet, Edisto Island).
June 20, 2016 – December 31, 2016. Fishery closed in state and federal waters. 
Bag Limit
1 per person, per day, and no more than 3 per boat per day. Applies only in SC waters south of 032 31.0' N latitude (Jeremy Inlet, Edisto Island)
2 per person per day (Federal waters and all other SC state waters)
---


Ladyfish Featured in CH2 Magazine.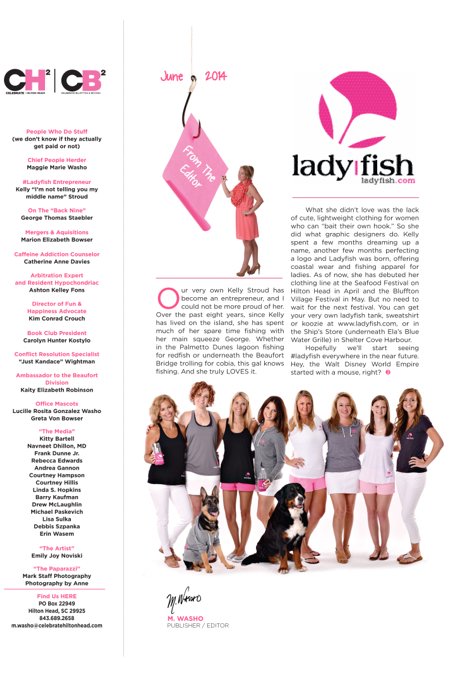 Our very own Kelly Stroud Spinella has become an entrepreneur, and I could not be more proud of her. Over the past eight years, since Kelly has lived on the island, she has spent much of her spare time fishing with her main squeeze George. Whether in the Palmetto Dunes lagoon fishing for redfish or underneath the Beaufort Bridge trolling for cobia, this gal knows fishing. And she truly LOVES it. 
What she didn't love was the lack of cute, lightweight clothing for women who can "bait their own hook." So she did what graphic designers do. Kelly spent a few months dreaming up a name, another few months perfecting a logo and Ladyfish was born, offering coastal wear and fishing apparel for ladies. As of now, she has debuted her clothing line at the Seafood Festival on Hilton Head in April and the Bluffton Village Festival in May. But no need to wait for the next festival. You can get your very own ladyfish tank, sweatshirt or koozie at www.ladyfish.com, or in the Ship's Store (underneath Ela's Blue Water Grille) in Shelter Cove Harbour. 
Hopefully we'll start seeing #ladyfishHHI everywhere in the near future. Hey, the Walt Disney World Empire started with a mouse, right? 
M.Washo
Publisher/Editor
---
Largest Tuna Ever Caught Landed by New Zealand Women
The New Zealand Sport Fishing Council has recently recognized Donna Pascoe as being the record holder for the largest fish ever caught by a women with a Rod & Reel.
The extraordinary Pacific Blue Fin Tuna was caught by the female angler on February 19th. It weighs an extraordinary 907 pounds and was caught some 34 miles North of New Zealand on her boat the Gladiator.
Ms Pascoe commented "The fish never surfaced... I hooked up at 9 am with the reel screaming.. We had no idea what was on the other end." The Blue Fin Tuna took 3 hours to surface at which point the boats skipper yelled out "Tuna World Record!"
Getting the colossal catch registered is a surprisingly bureaucratic process. The proper documentation had to be submitted to the records officer of the NZ Sports Fishing Council. They have only recently authenticated the catch making it the record holder for the women's 60kg line catch. Further inspecting will now be carried out by the International Game Fishing Association. If they authenticate the catch it will set  a new world record for Blue Fin Tuna. "This is even better as is beats all the boys" commented Donna Pascoe.
Should the catch be accredited by the IGFA it will beat the current record by an outstanding 130 pounds.
The 56 year old fisher woman fought with the tune for 4 hours. "The line was peeling out like it was attached to a freight train" she explained "I was nervous that I might get spooled". However the fish stopped running after a period and she was able to recover some line.
The existence of such a huge fish in the Pacific is not surprising. The growing size of Blue Fin Tuna in the pacific and it's likely that more fish of this size could be found soon.
Donna Pascoe credits adrenaline for helping her keep struggling with the fish until it could be brought it. We would like to congratulate the prospective world record holder on the catch of a life time. For anyone else inspired by Donna's extraordinary catch we offer suitable women's fishing t-shirts, hoodies and gear.
We hope you'll find what you are looking for in the store.  


Anglers Protect Florida Fish Stocks
Welcome to Lady Fish's first round up of all the latest news from the world of fishing. Whether you're here shopping for yourself or a special lady angler in your life we hope you enjoy our snapshots of the latest news from the fishing community. Please check the shop for women's fishing gear, ladies fishing t-shirts, hoodies and tank tops.
A court case regarding fishing restrictions in Florida has reached the Federal appeals court. Commercial fishermen in Florida are seeking to overturn a constitutional amendment in that state that limits marine net fishing.
The Wakulla Fisherman's Association has taken the Wildlife Conservation Commission to court in order to liberalize the current restrictions on net fishing. Anglers have been a vocal part of the movement to resist this move that critics say will lead to over exploitation and diminish fish stocks.
The nets would allow commercial fisherman to catch larger Mullet. This would be a disastrous move for the marine ecosystem. Protecting Mullet and in particular the breeding population also provides for a large number of other species that feed on young mullet. These include Snook, Redfish, Trout, Tarpon and Snapper.
The current restrictions allow commercial fishermen to maintain their livelihoods. The size of mesh in fishing nets is restricted. The smaller nets that are permitted to not allow larger fish of breeding age to get their heads into the holes and thus they do not become entangled. The attempt to overturn the ban is being supported by economic arguments. However these a flawed, allowing larger fish to be caught whilst lining fishermen's pockets would harm the recreational fishing industry and the jobs that rely upon it.
Men and women anglers have long been proud of protecting the environments that provides them with their past time and are hoping for the courts to maintain the existing restrictions. In this case they are being led by the Florida Coastal Conservation Association. They are expected to succeed in defending the constitutionality of the amendment passed in 1994 with 72% of the vote.

The enjoyment of nature and the environment is considered by all anglers to be one of the most compelling reasons to fish. It's what makes it worthwhile even when nothing bites. We're proud to be serving women anglers who are protecting their environment and hobby. Please check out our women's fishing clothing and gear in the store.